60th Regiment NY Volunteer Infantry | National Color | Civil War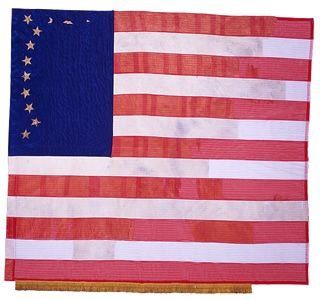 Flag dimensions: 79" hoist X 73" fly.
(2008.0002)
This silk national color originally included either 34 or 35, gold-colored, painted stars in a concentric oval pattern. Overall, approximately 40% of the flag is missing, including most of the canton, the lower stripe, the fly edge, and fringe. The losses result from use, poor storage, and possibly souveniring. In 1967 a flag restorer sandwiched the flag between nylon netting and used blue infill fabric to disguise losses in the canton. On November 24, 1863, at the Battle of Lookout Mountain, Tennessee, Color Sergeant William Leahy fell, wounded in the shoulder and thigh, while carrying the national color seen here. Sergeant Leffert Buck quickly seized the flag and bravely carried the color during the regiment's deadly assent. In 1868 Buck graduated from Rensselaer Polytechnic Institute in Troy, New York, and in 1903 designed and built the Williamsburg Bridge in New York City.