5th Regiment NY Volunteer Infantry | National Color | Civil War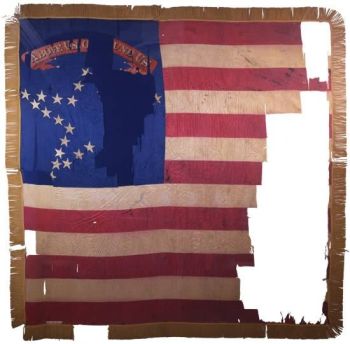 Flag dimensions: 86" hoist X 83 1/2" fly.
(1995.2306)
The 5th Regiment, through Company H, received this National Color from "some admiring ladies of New York" on 16 July 1861 at Clinton Hall in New York. The stars in the canton are arranged in a star pattern with the motto (partially lost) "ABOVE US, OR AROUND US" painted on a red ribbon on both sides. The flag is hand sewn and the stars are inserted into the canton rather than appliquéd. Approximately 25% of the flag is lost; at no single point is the flag complete from hoist to fly so the fly (width) measurement is an approximate.