56th Regiment NY Volunteer Infantry | Guidon | Civil War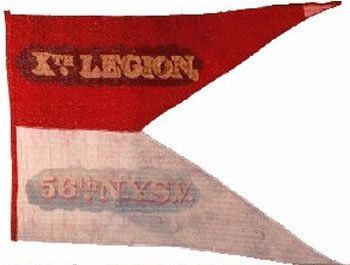 Flag dimensions: 31 3/4" hoist X 39" fly.
(2000.0167)
The 56th Regiment NY Volunteer Infantry is believed to have received this flag in November 1861. This guidon generally conforms to the 1858 NYS Regulations as well as the 1861 US Army Regulations which called for guidons to be made in swallowtail form split along the horizontal center with the upper half red and the lower half white. The flag features gold-colored painted inscriptions with red and grey painted highlights.