48th Regiment NY Volunteer Infantry | National Color | Civil War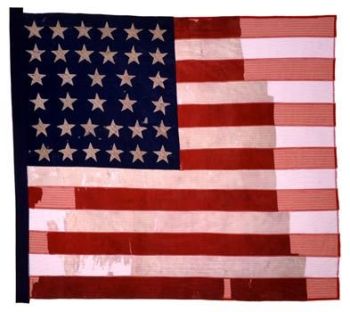 Flag dimensions: 72 1/4" hoist X 81" fly.
(2013.0005)
In early October 1861, "Perry's Saints" arrived at Annapolis, Maryland, the capital city in a vital border state where citizens supported both the Union and the Confederacy. The regiment received this silk national color on October 16, 1861, at St. John's College in Annapolis from Maryland Governor Thomas Hicks as part of a larger flag presentation ceremony for each regiment in Brigadier General Egbert Viele's brigade. The presentation ceremony and the flag itself, a joint gift from the "amiable lady of the General" and the Union Defense Committee of New York City, afforded Hicks the political opportunity to publicly affirm his devotion to the Union. The flag accompanied the regiment on campaign, including during the deadly assault on Fort Wagner, South Carolina, July 18, 1863. During the assault, the regiment suffered over 200 casualties; at least two color bearers were killed in action, Corporal Alonzo Hilleker and Corporal Sidney Wadhanis. This silk national color received a netting treatment in 1975. At that time a restorer sandwiched the flag between color-matched nylon net and secured the net to the flag with closely spaced rows of machine zigzag stitching. Although the netting treatment has kept the flag together, when State Parks conservators examined the flag in early 2013, they realized that the many rows of stitching carried out in 1975 created additional breaks and losses in the flag. The conservators did not remove the netting treatment because the many rows of stitching used to apply the net weakened the original silk fabric.