37th Regiment NY Volunteer Infantry | Regimental Color | Civil War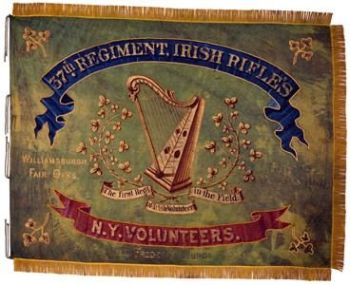 Flag dimensions: 58" hoist X 71 1/2" fly.
(1995.2021)
Reportedly received by the 37th New York Volunteer Infantry in February 1863 from the City of New York, and carried at Chancellorsville, Virginia, May 1-3, 1863, this green, silk Regimental Color features traditional Irish iconography painted on both sides. The flag also features painted battle honors commemorating the regiment's 1862 campaigns and the unit's distinction as "The first Regt. of Irish Volunteers in the Field."