2nd Regiment NY State Militia | Flank Marker | Civil War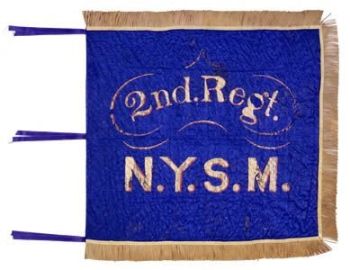 Flag dimensions: 27 1/4" hoist X 27 3/4" fly.
(2005.0104)
This blue silk flank marker features painted inscriptions on both sides and twisted and looped fringe along the top, fly and bottom edges. Confederate forces captured the flank marker - possibly at Bull Run, Virginia, July 21, 1861, or near Petersburg, Virginia, June 22, 1864. Ultimately reclaimed by Union soldiers and turned over to the War Department, the flag remained in Federal hands until 1905 when authorities returned the flank marker to New York State for deposit within the Battle Flag Collection.