202nd Regiment, Infantry, NY Volunteers | National Color | Spanish American War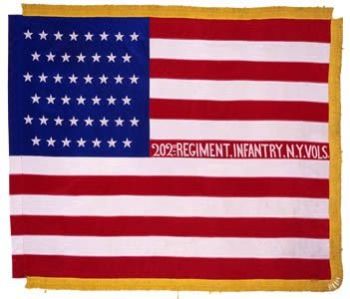 Flag dimensions: 58" hoist X 66 1/2" fly.
(1995.3781)
The 202nd Regiment, Infantry, New York Volunteers organized at the 65th Regiment armory in Buffalo, New York, beginning in June 1898. The regiment received this 45-star national color on August 11, 1898, from the Society of Sons of the Revolution. Manufactured by Annin & Company of New York City, the silk national color includes the regiment's numeric designation embroidered in white to the center red stripe and bright, yellow-colored, knotted fringe on three sides.