17th Regiment NY Volunteer Infantry | Regimental Color | Civil War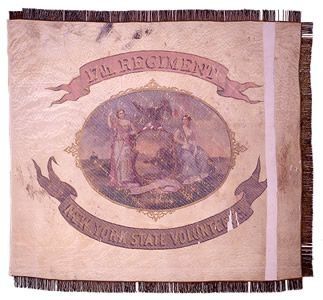 Flag dimensions: 75" hoist X 81 1/4" fly.
(2007.0045)
The "Westchester Chasseurs" received the Regimental Color seen here on June 17, 1861, at Camp Washington from patriotic ladies of Westchester County. Painted in the center is the Arms of the State of New York. The regiment's designation is painted above and below the Arms. The other side of the flag includes the Arms of the United States painted in the center with the same painted inscriptions. Metallic bullion fringe lines three sides.