139th Regiment NY Volunteer Infantry | Guidons | Civil War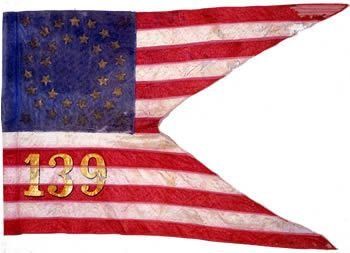 Flag dimensions: 28" hoist X 39 1/4" fly.
(2004.0034)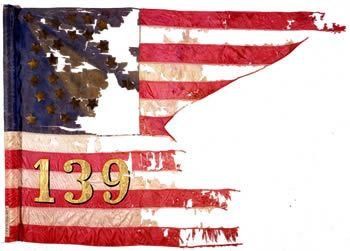 Flag dimensions: 26" hoist X 37 3/4" fly.
(2004.0035)
The NYS Battle Flag Collection includes two guidons carried by the 139th Regiment New York Volunteer Infantry. Each silk, swallowtail guidon conforms to the "stars and stripes" pattern prescribed in General Order No. 4, dated January 18, 1862. One guidon includes all it's stars, 35, while the other guidon, discolored, faded and with fabric losses, includes only 24. Both guidons include a unique element – the unit's numeric designation is painted in gold, yellow and black to the lower half on the front side only.