121st Regiment NY Volunteer Infantry | National Color | Civil War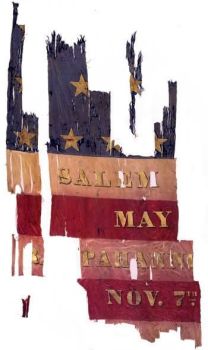 Flag dimensions: 46" hoist X 26 1/2" fly.
(1999.0038)
Approximately 85% of this national color carried by the 121st Regiment NY Volunteer Infantry is missing. Portions of two battle honors, Salem Church (May 3-4, 1863) and Rappahannock Station (November 7, 1863), are visible on the four stripes below the canton. According to the Otsego Republican, April 9, 1864, "The regiment will soon be presented with a new stand of colors, on which will be inscribed the battles of Salem Chapel and Rappahannock Station, in which it will be remembered the regiment fought nobly." Presumably the regiment received this color in time for the Overland Campaign which could explain the losses.