10th Regiment NY Volunteer Infantry | National Color | Civil War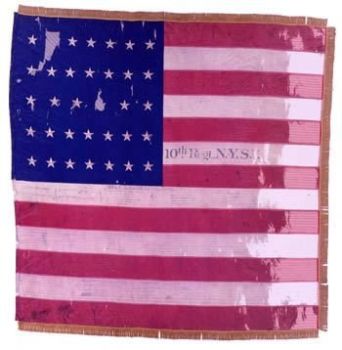 Flag dimensions: 75" hoist X 74" fly.
(2003.0287)
The 10th Regiment New York Volunteer Infantry, or "National Zouaves," is thought to have received this 34-star, silk national color from the City of New York in 1863. The flag's stenciled inscriptions include the names of officers and members of the color guard killed or wounded in the spring 1864 Overland Campaign as well as battle honors from that campaign. The inscriptions and unit designation experienced water damage, and some of the information has been lost. A restoration of this flag in 1968 used color-matched nylon net.