1st Regiment Dragoons, NY Volunteers | Standard | Civil War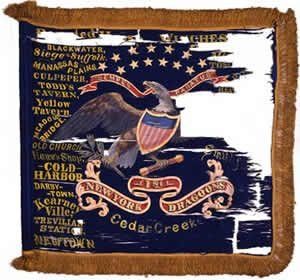 Flag dimensions: 32" hoist X 32 1/2" fly.
(2003.0068)
Organized at Portage and recruited from Allegany, Livingston, and Wyoming Counties, the 1st Dragoons originally mustered in as an infantry regiment, the 130th Regiment, in September 1862. One year later the regiment converted to cavalry and officials re-designated the unit as the 1st Dragoons. This blue silk standard includes the arms of the United States painted to the center, the regiment's designation painted in a scroll underneath the eagle, and "SEMPER PARATUS," or "Always Ready," painted to a scroll flying from the eagle's beak. In addition, numerous battle honors are painted to the surface including battles the regiment participated in while in service as infantry. Due to the extensive paint, which is now very brittle, humidification was used to unroll the flag for examination and later to flatten and realign it during treatment.