15th Regiment Cavalry, NY Volunteers | Standard | Civil War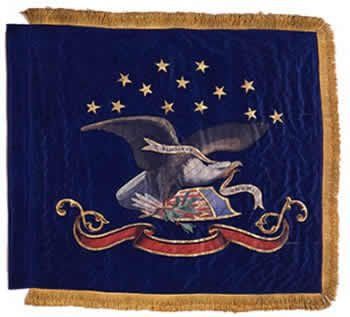 Flag dimensions: 30 1/2" hoist X 33 3/4" fly.
(2004.0093)
The 15th Cavalry's standard features a painted Arms of the United States with 13 gold stars above the eagle and a red ribbon, without unit designation, below the eagle. Usually flags of this size are made from one piece of silk fabric, folded over at the hoist to create a staff sleeve. Although no larger than usual, this flag was made in two pieces, one for the body of the flag and one for the staff sleeve.