Albany Republican Artillery, NY State Militia | Regimental Color | c.1809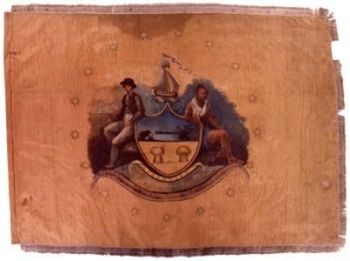 Flag dimensions: 69 1/2" hoist X 94 1/2" fly.
(1995.3523)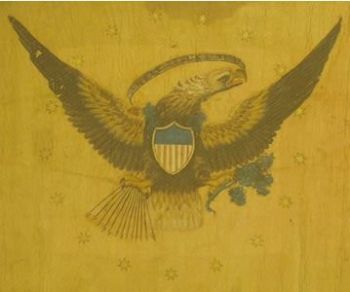 This yellow, silk regimental color includes the Arms of the City of Albany painted to one side surrounded by seventeen, seven-pointed stars. The other side includes a stylized Arms of the United States encircled by seventeen, seven-pointed stars (see detail image). Reportedly, the regiment received the flag in 1809 from General Philip Van Rensselaer and the regiment proudly carried the banner while in service at Sackets Harbor. Colonel John Mills suffered a mortal wound and again, reportedly the flag was wrapped around his body and is stained with his blood. Ezra Ames, known portrait painter, received payment from Philip Van Rensselaer ($74.00) on February 1, 1813 for painting a flag. Perhaps Ames painted this flag.