2nd Battalion, 156th Artillery, NY National Guard | Standard | 1963-1968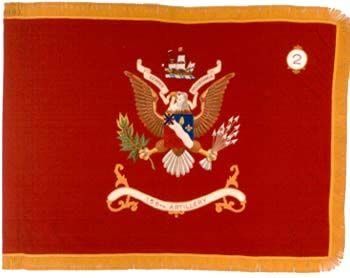 Flag dimensions: 40" hoist X 52" fly.
(2001.0094)
This Standard features the U.S. Arms with regimental and state identifiers. The distinctive insignia of the 156th Artillery is embroidered on the eagle's chest. The unit's motto "SEMPER PROCEDAMUS" or "Ever Onward" is embroidered on the scroll held in the eagle's beak. NYS's official military crest, the Half Moon, appears above the eagle's head.