Battery L, 2nd Regiment Artillery (Heavy), NY Volunteers | Guidon | Civil War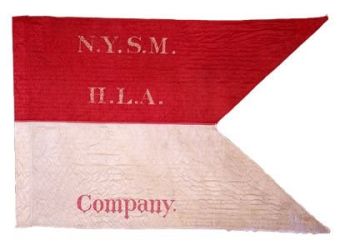 Flag dimensions: 27 3/4" hoist X 40 1/4" fly.
(2004.0046)
Captain Thomas Robinson, commander of the "Hamilton Light Artillery" company from the 15th New York State Militia, received authority in July 1861 to organize a three-year, volunteer artillery company. Robinson enlisted recruits from Flushing, Queens County, including many veterans from the "Hamilton Light Artillery," Flushing's militia company since 1839. In September 1861, the reorganized "Hamilton Light Artillery" received the guidon seen here from Congressman Luther Carter at Camp Todd, Flushing. The silk, swallowtail guidon is divided horizontally at the fork with a red upper half and a white lower half as prescribed in the 1858 New York State regulations. The red half features the unit's abbreviated State Militia affiliation, "N.Y.S.M." and unofficial designation, "H.L.A." in gold paint. The white half includes "Company." in red paint. The flag accompanied the unit, designated in November 1861 as Battery L, 2nd Artillery, New York Volunteers, to Washington, D.C., in December 1861. The unit retired the flag before their departure from Washington in May 1862. Redesignated as the 34th Independent Battery, New York Volunteers in November 1863, the battery served primarily with the IX Corps in Virginia.