2nd Regiment Artillery (Heavy), NY Volunteers | National Flag | Civil War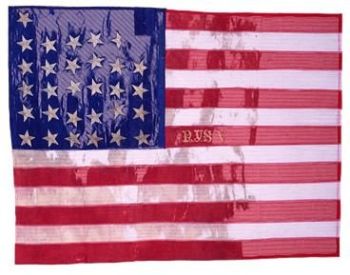 Flag dimensions: 46" hoist X 59 1/2" fly.
(2006.0317)
This flag attributed to the 2nd Regiment Artillery, New York Volunteers, currently includes only 30 embroidered stars from either a 35, or 36-star pattern. A part of the unit's embroidered state affiliation, "N.Y.S V ," remains in cream-colored silk on the center red stripe. Deposited into the New York State Battle Flag Collection by February 1865, the flag was made from individual pieces of red, white, and blue silk pieced together using narrow, flat-felled seams. Approximately 50% of the original flag is missing.