Battery L, 2nd Regiment Artillery (Heavy), NY Volunteers | Guidon | Civil War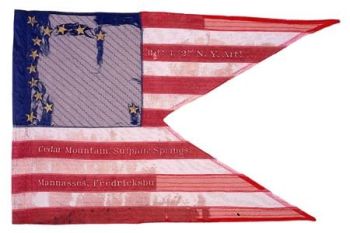 Flag dimensions: 25 3/4" hoist X 39 1/4" fly.
(2004.0045)
Approximately 50% of this silk guidon is missing including a large part of the canton and portions of the battle honors commemorating the battery's service throughout 1862 from Cedar Mountain, Virginia, August 9, to Fredericksburg, Virginia, December 11-15. The unit's designation, Battery L, 2nd Artillery, is painted on the second red stripe (from the top). According to Captain Jacob Roemer, the unit received this flag in May 1862 and carried it throughout 1862 and 1863. Battery L, 2nd Regiment Artillery largely served detached from its regiment and in November 1863 received a new designation, 34th Independent Battery. The flag received a netting treatment in 1973. Not a recommended treatment by today's standards, the netting obscures construction details, creates a stiffer hand, a false sense of fabric stability, and stress holes in the delicate silk.