27th Independent Battery, NY Volunteers | Guidon | Civil War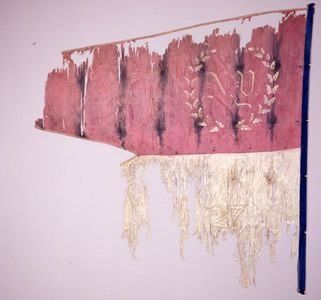 Flag dimensions: 31 1/4" hoist X 30 1/2" fly.
(2005.0116)
The 27th Independent Battery, New York Volunteers reportedly received this silk guidon at Camp Morgan, Buffalo, New York, on December 21, 1862. The flag includes the unit's numeric designation embroidered in white in the lower half and "N.Y." encircled by a wreath embroidered in white in the upper red half. Approximately 40% of the flag is lost, most notably at the fly ends and the lower half.